Preview of the installation Becoming Male in the Middle Ages, 2022.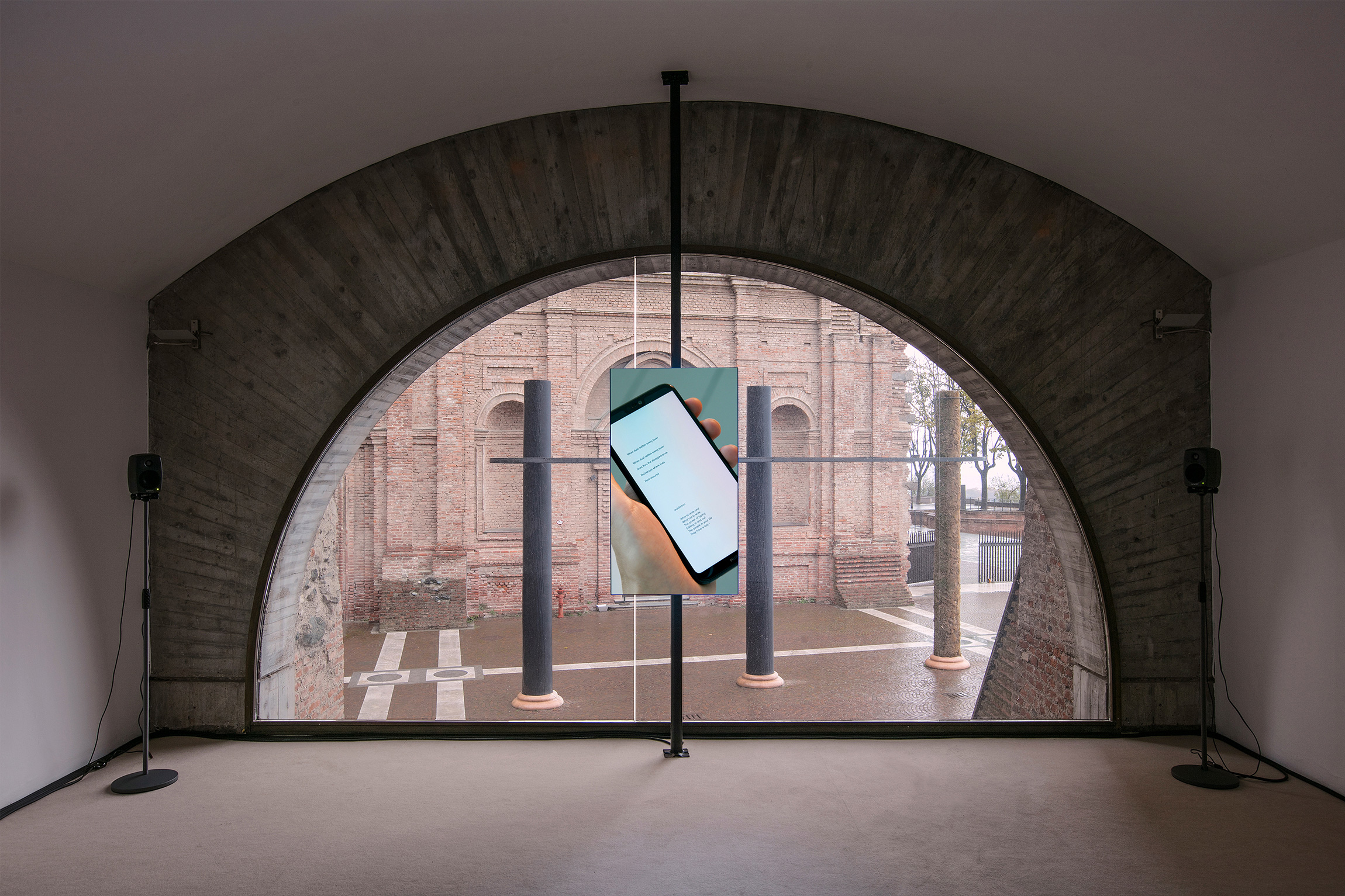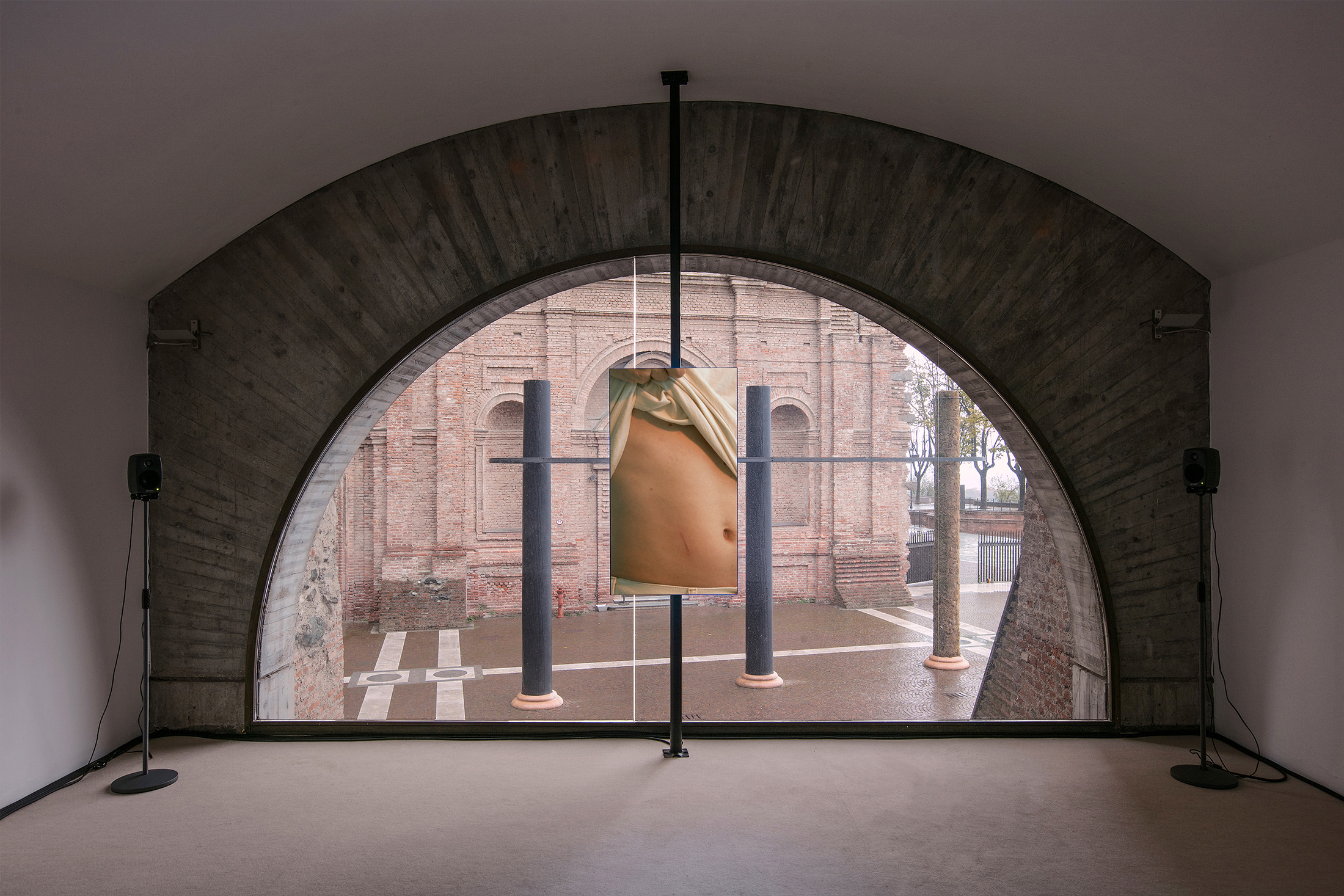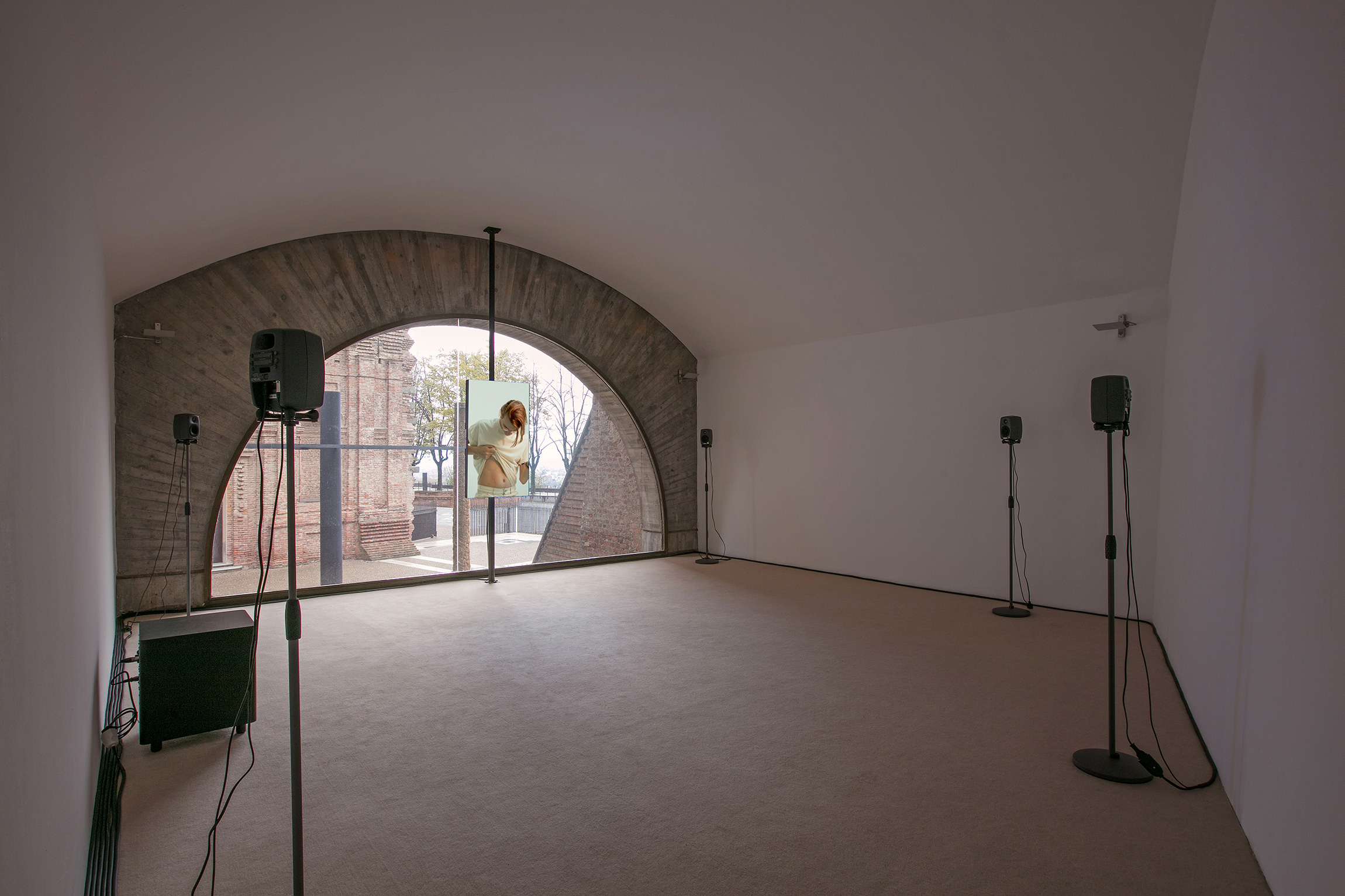 Installation views
Castello di Rivoli, Turin, Italy, 2019-20.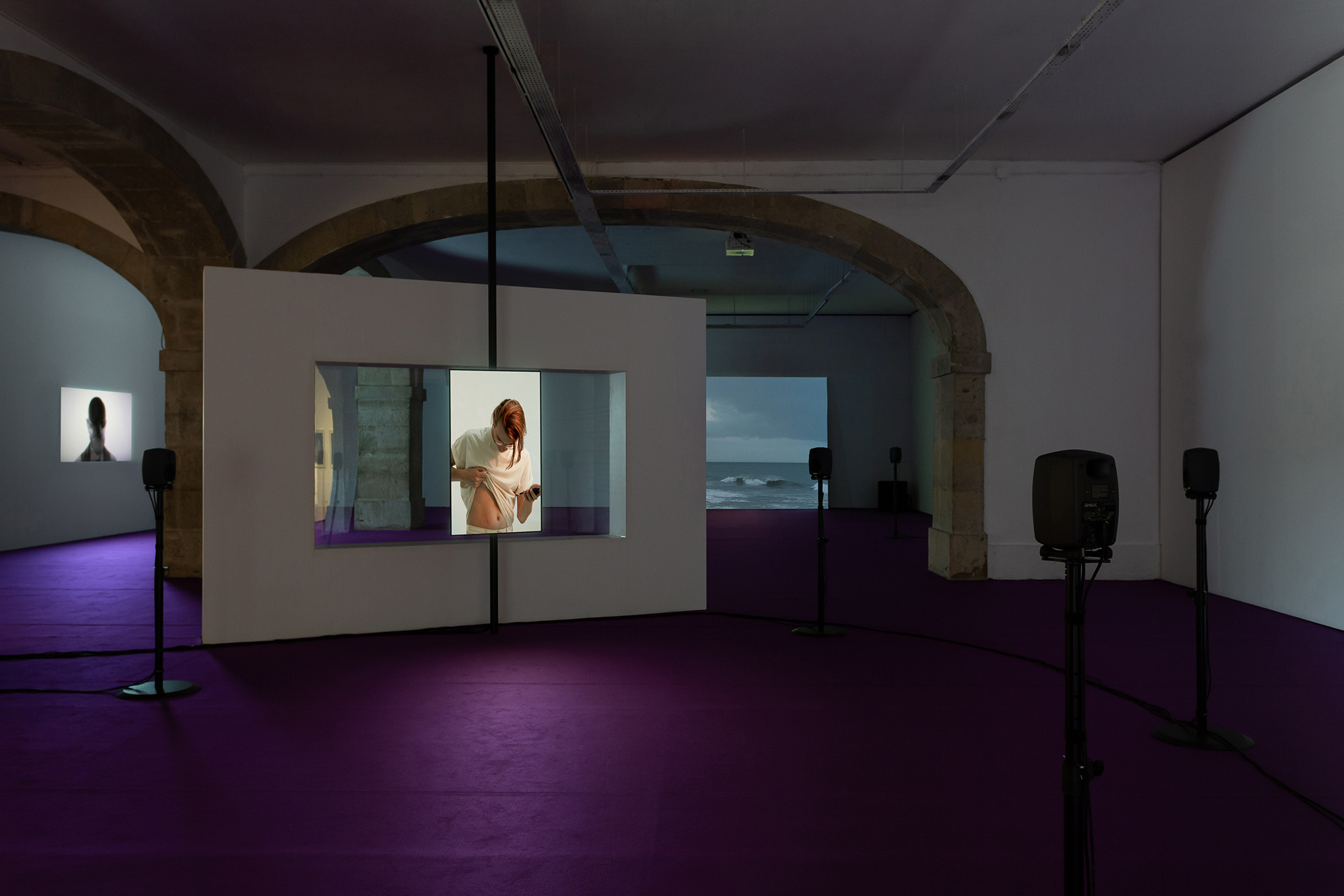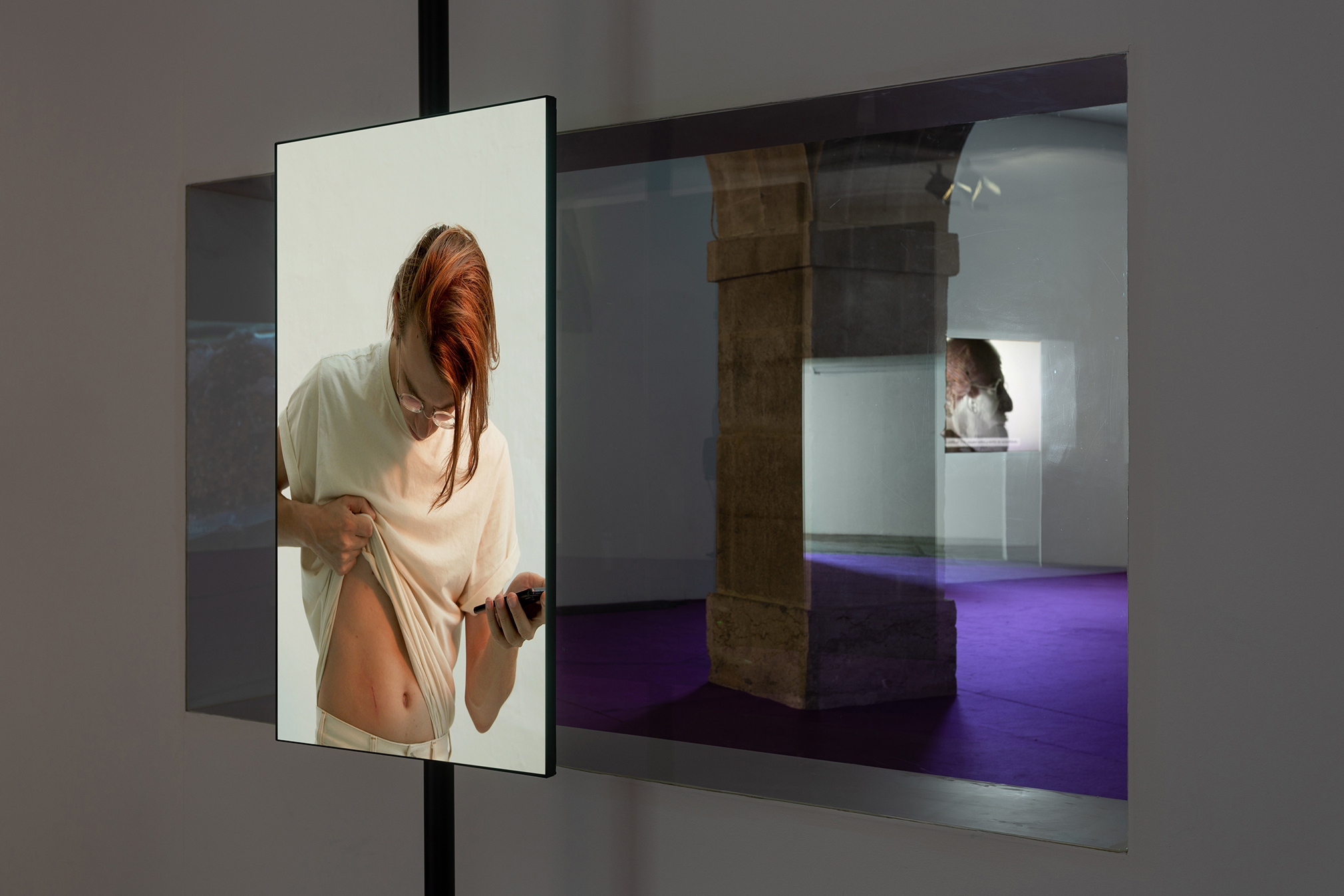 Installation view
Torreão Nascente - Municipal Galleries of Lisbon, Portugal, 2021.
Becoming Male in the Middle Ages
An installation in collaboration with HAUT.
2019. 35' loop, five channel dolby surround sound piece with 8' video, beige colored carpet. Spoken in English.

"Adapted from a recent short story of mine, Becoming Male in the Middle Ages takes as a starting point the strained relationships between a group of friends and lovers. Marwa and Vincent, and Carl and Andreas, are all couples in their mid-thirties. On the one hand, a heterosexual couple dealing with infertility issues; on the other, a homosexual couple trying to have a biological baby. When Carl decides to implant an ovary in the hopes of having a baby with his husband Andreas, Marwa must confront her feminist ideals against her best friends' reproductive desire, as well as Vincent's male fragility.

Having worked with artist and music producer HAUT before, we gathered again to collaborate in a musical piece—an homage to the genres of mixtapes and podcasts. We both agreed on the emotional ride we wished our listeners to take, and were keen on having experimental electronic club music play in a contemporary art setting. HAUT made a collage of my voice reading the story, intertwined with samples from journalistic and medicinal reports about male infertility and ovarian implants. Melodies were extracted from the pitch and timbre of my crackly, mumbling voice, and paired with textural sounds and beats, creating a bodily and emotional experience.

This musical piece is combined with a short video of me reading from my own poetry on my cellphone. From time to time, I pull my shirt up, revealing a bruised scar on my belly, hiding beneath it an ovary implant. Though I am clearly speaking out loud, you cannot hear me, only my lips out of synch with my voice playing in the exhibition space.

Ovarian transplants were first tried out as a way of preserving fertility in women suffering from early menopause or cancer and chemotherapy. From such experiments, it was found that frozen ovaries could be transplanted into any fatty part of the body, most famously the belly or the arms, and then reactivated with hormonal cocktails. Remarkably, the ovary can be implanted anywhere in the body, regardless of gender. After a century of endocrinological research, the human body is increasingly seen as chemical, secretionary organism available to hormonal manipulation.

As for infertility, studies on the declining rates of fertility in men point to increased exposure to endocrinological disruptors, such as toxins, chemicals, and plastics. Some such studies are also kind enough to shift the damning tale of a biological clock from women to men's sperm, which is said to decline in quality with age.

Here, this medical research is mixed with Mpreg, an online literary genre of novels about male pregnancy, which find its readership not only in male gays but also, funnily enough, in middle-aged straight women. Heavily coded, this genre follows specific tropes within gay culture, such as the role of tops and bottoms, masc and fem, with the feminine partner assuming the reproductive role. This homonormativity, replicating toxic, straight masculinity, is key to the story, presenting reproductive labor and desire as a contesting site navigated by its characters."

- artist statement, Becoming Male in the Middle Ages exhibition brochure for Castello di Rivoli, 2019-2020.


"The title Becoming Male in the Middle Ages comes from a book on medieval queer studies examining sexuality in that period. Here, the Middle Ages can be interpreted as a temporal transition in which terms such as "male" and "masculinity" are questioned. Moreover, the title both signals and contradicts the fact that the story is told from a woman's point of view. The strict normativity that influences desire and reproductive work becomes a place of contestation explored by the protagonists, who live through and embody recent discoveries in the fields of genetics and hormonal research, as well as their impacts on the present and near future of gender. The installation is composed of a multi-channel musical composition and a short silent video, not synchronized with each other."

- Marianna Vecellio, exhibition curator at Castello di Rivoli, 2019-2020.