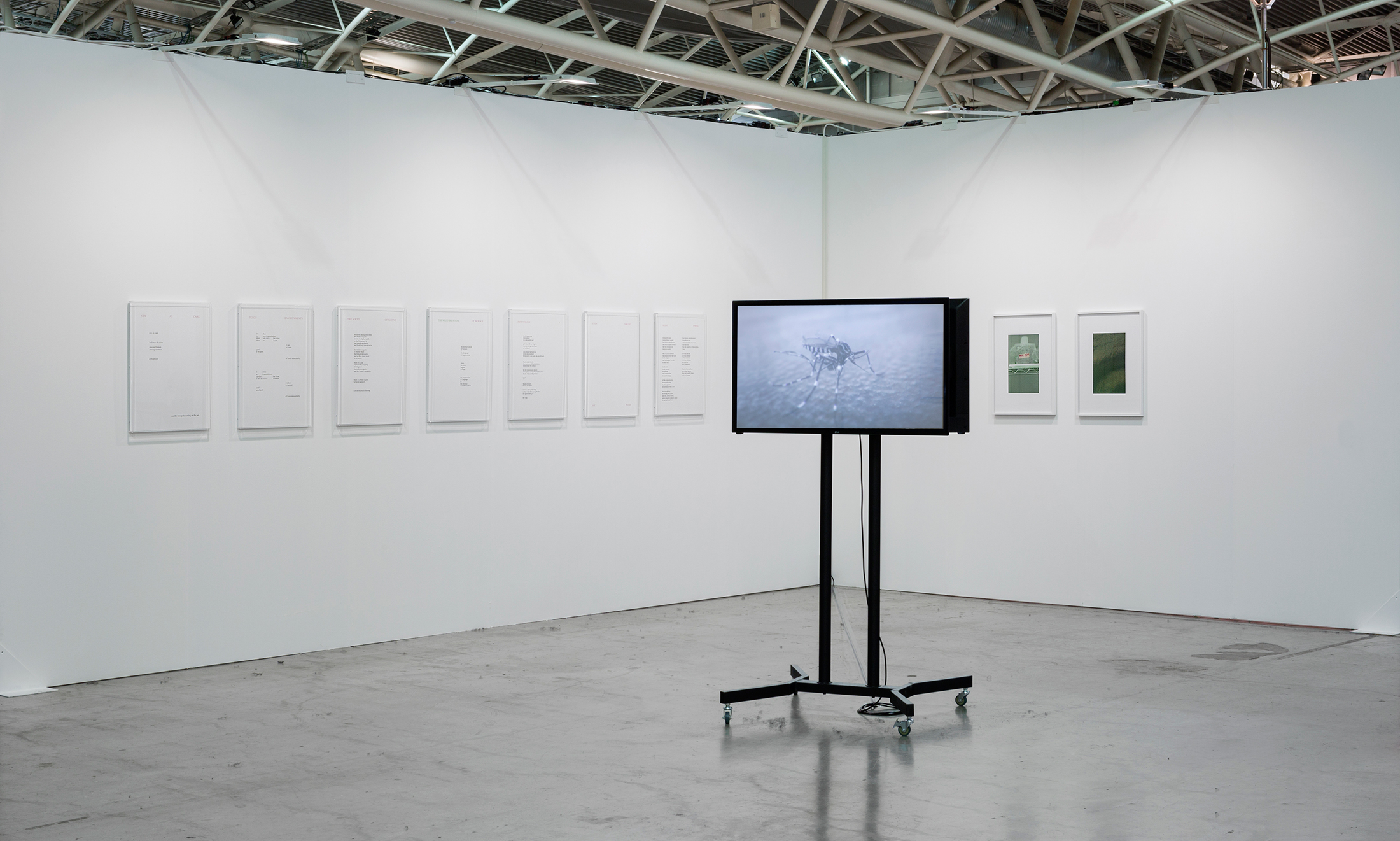 Installation view at Present Future, Artissima, Turin, 2018. Photo by Renato Ghiazza.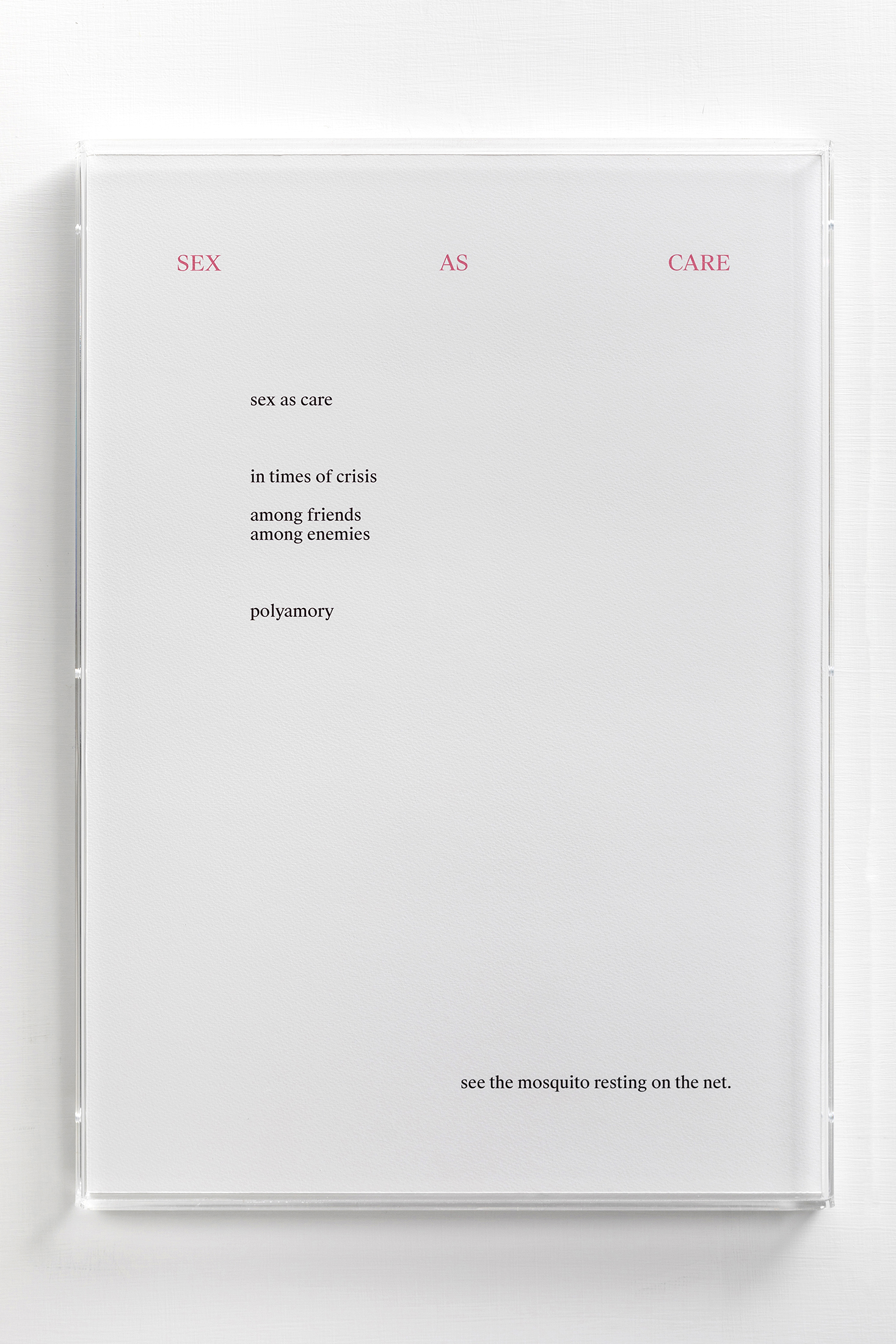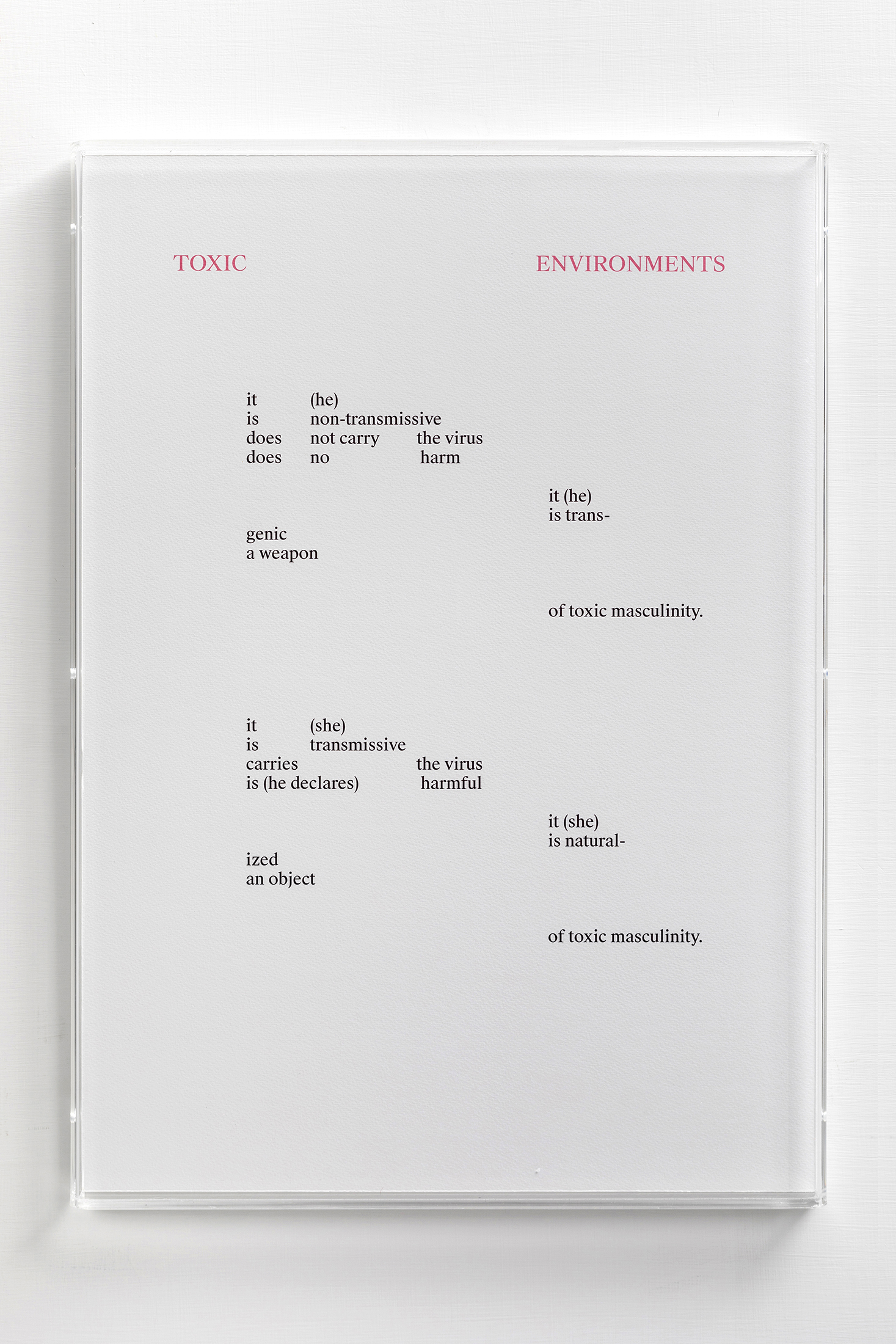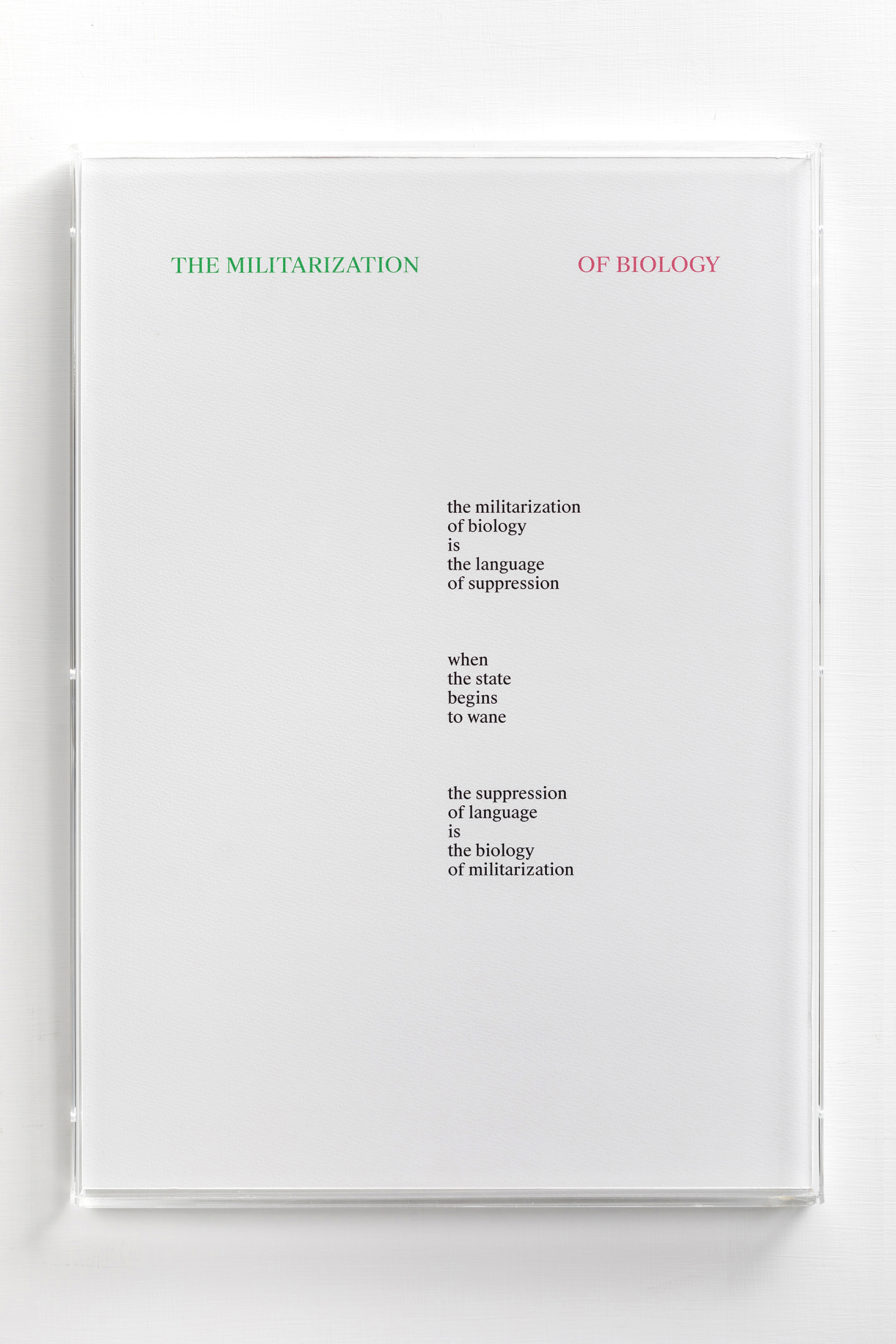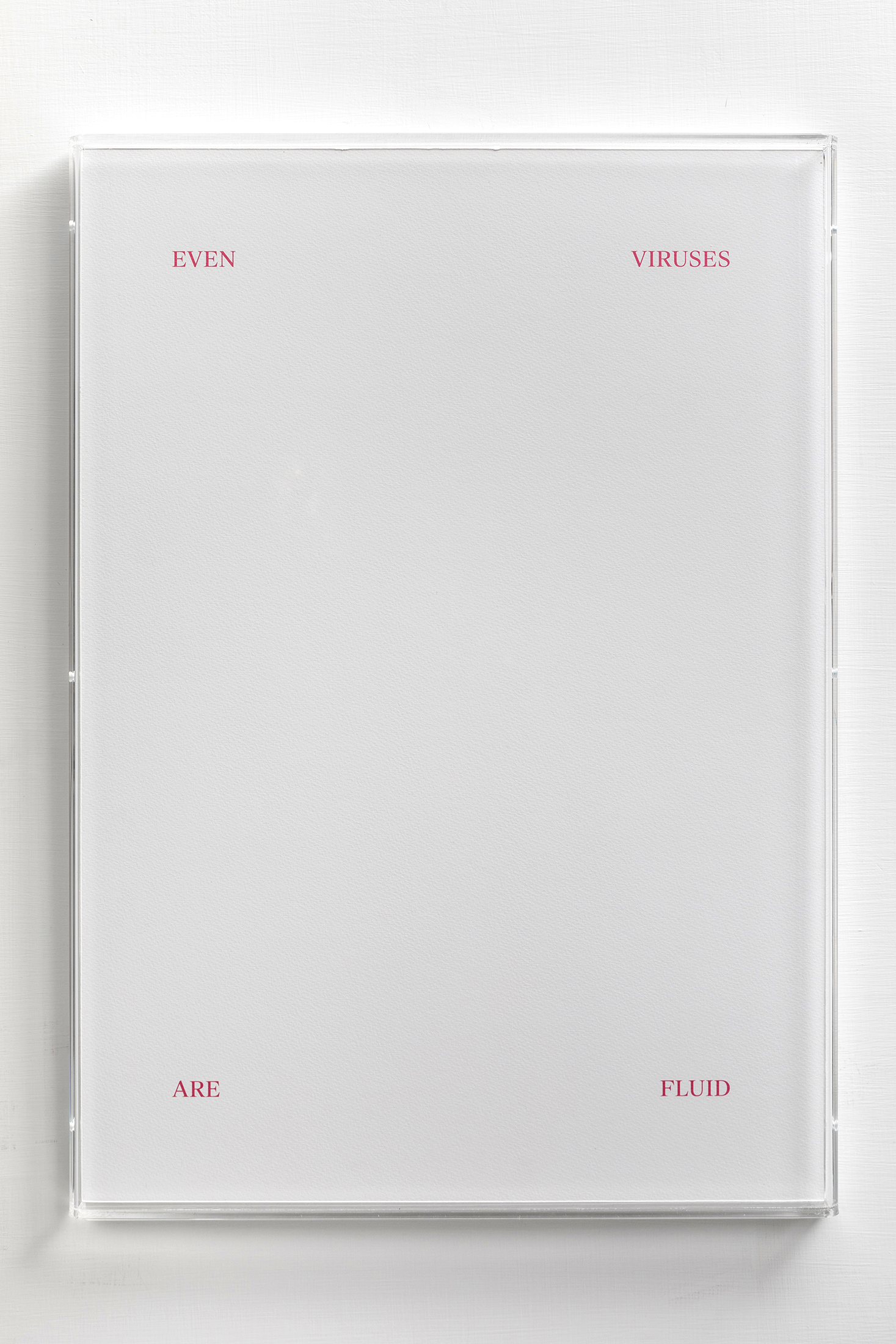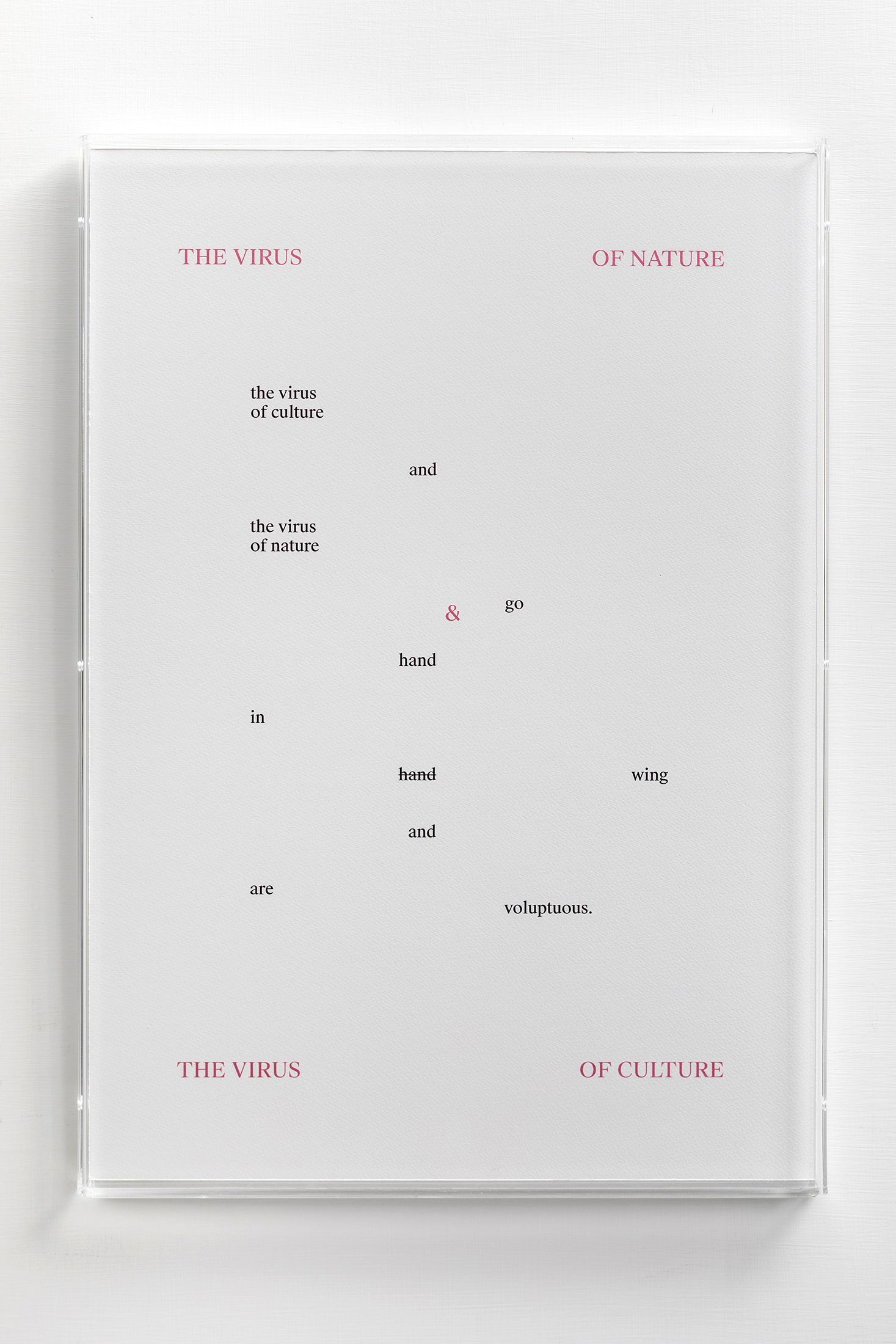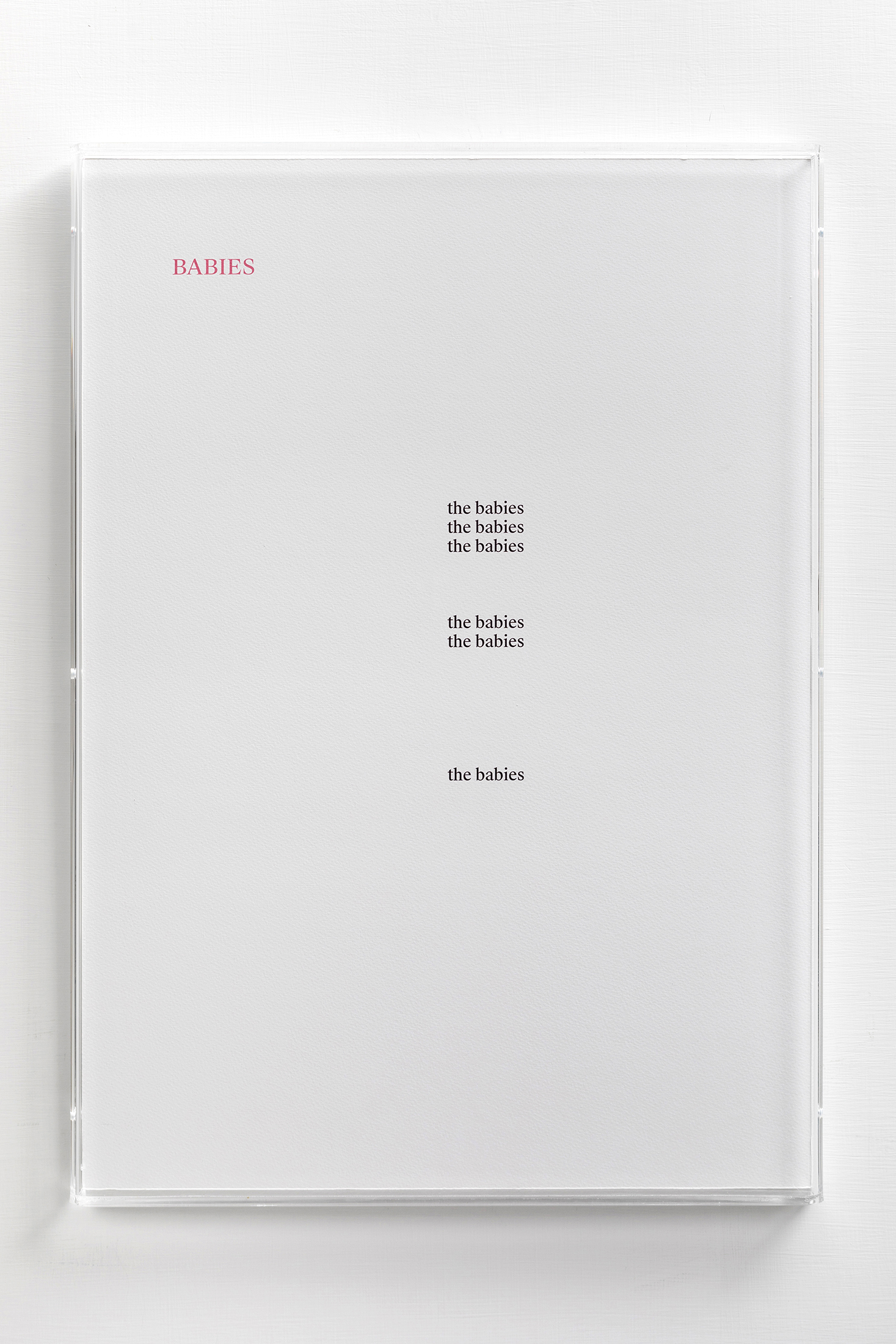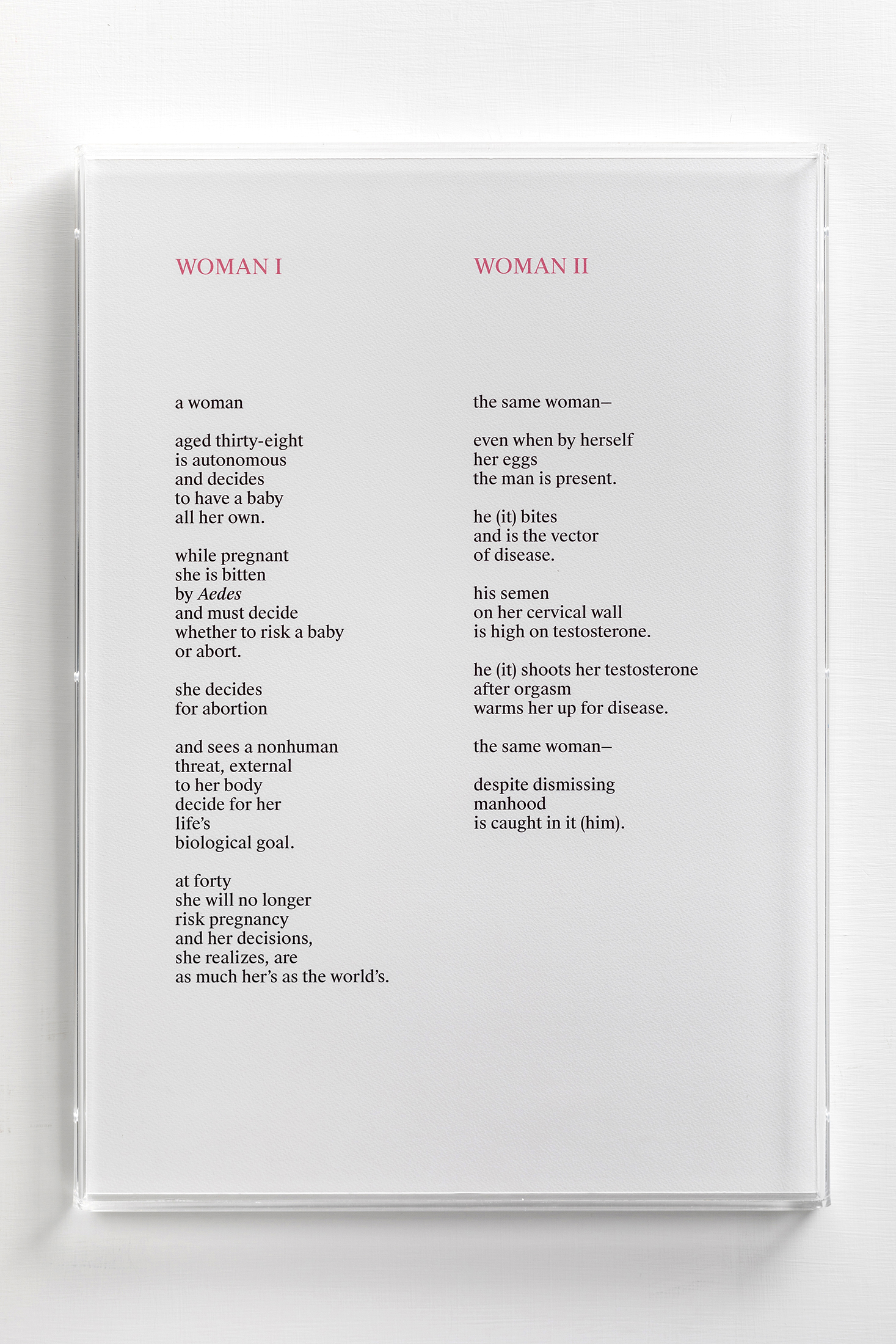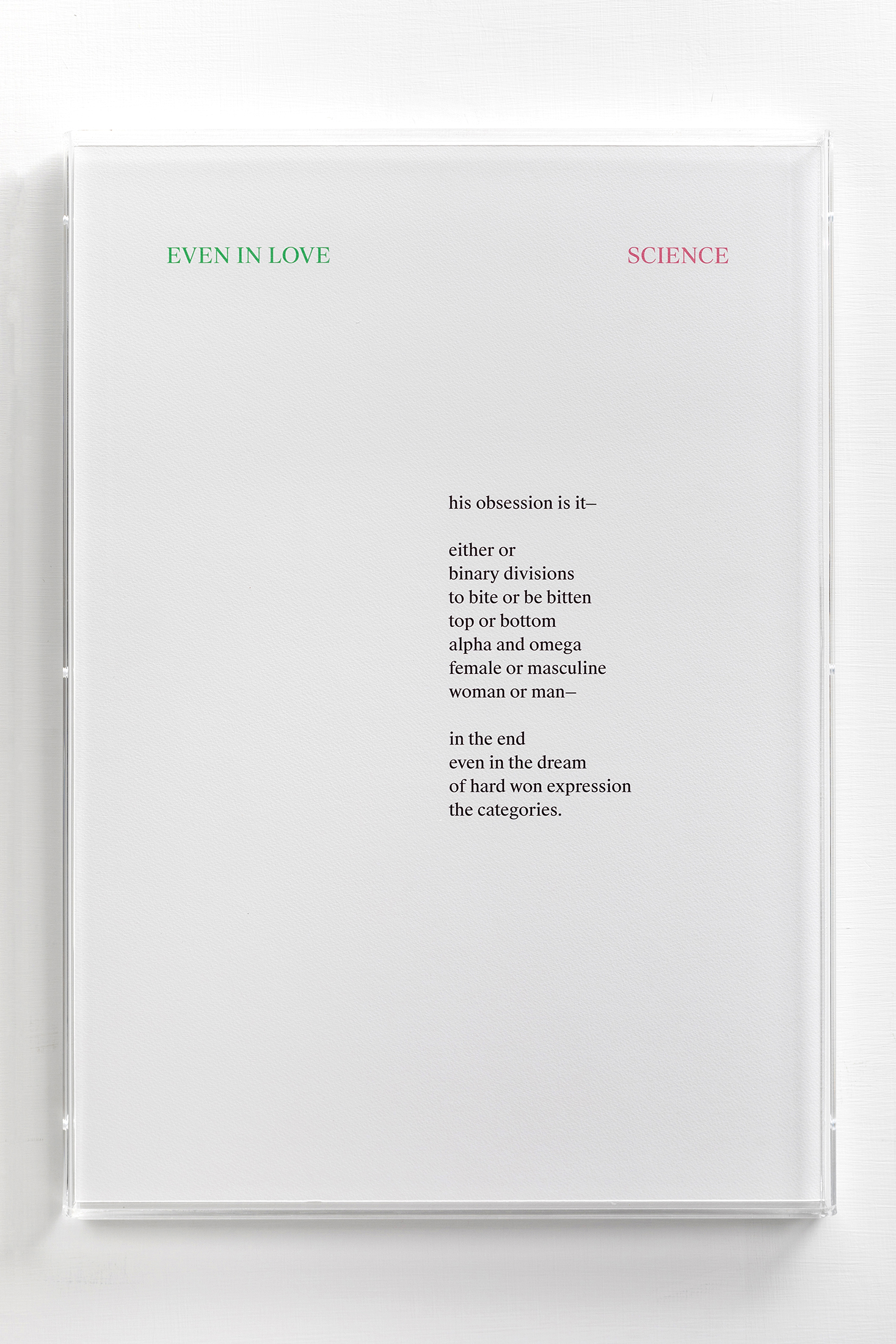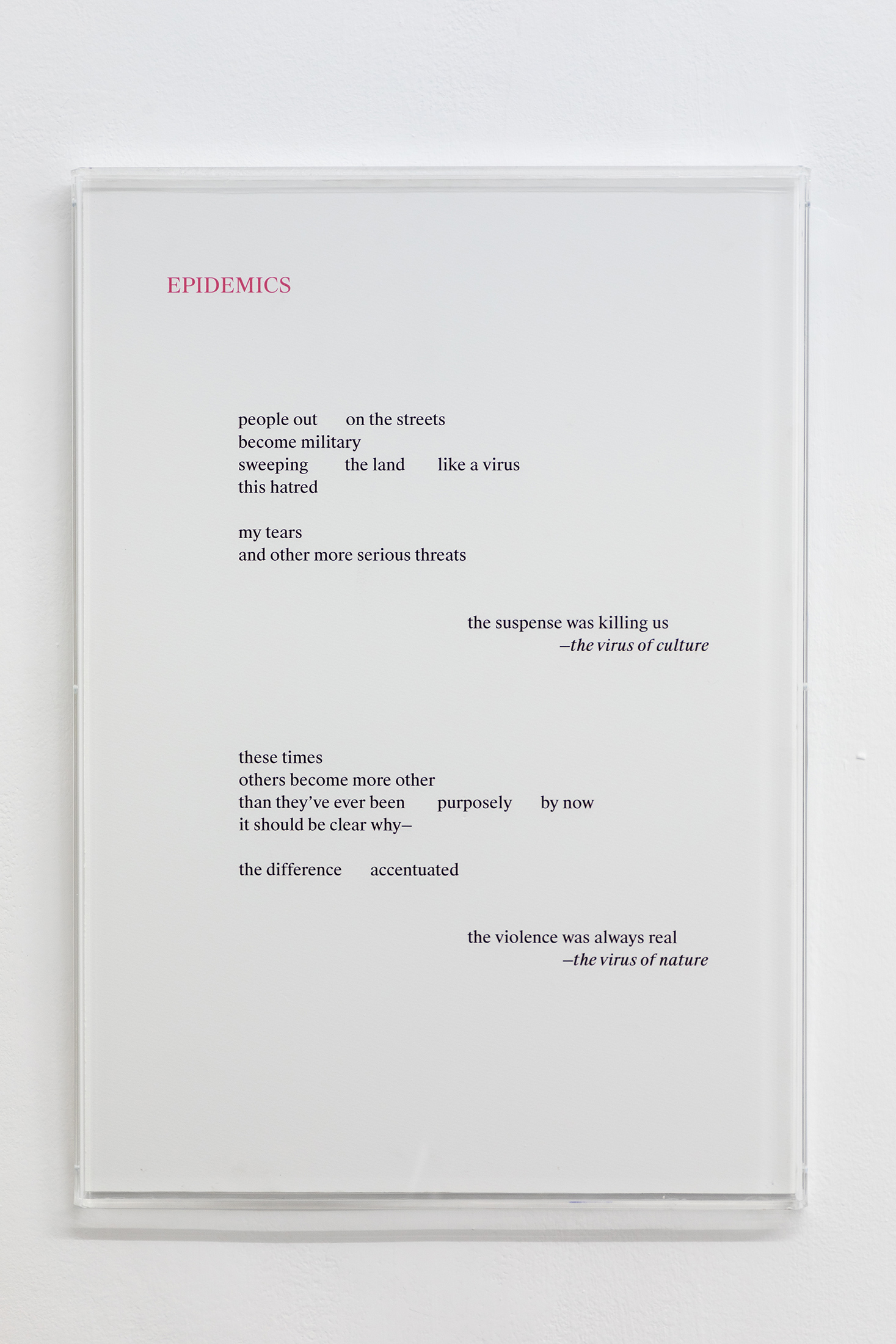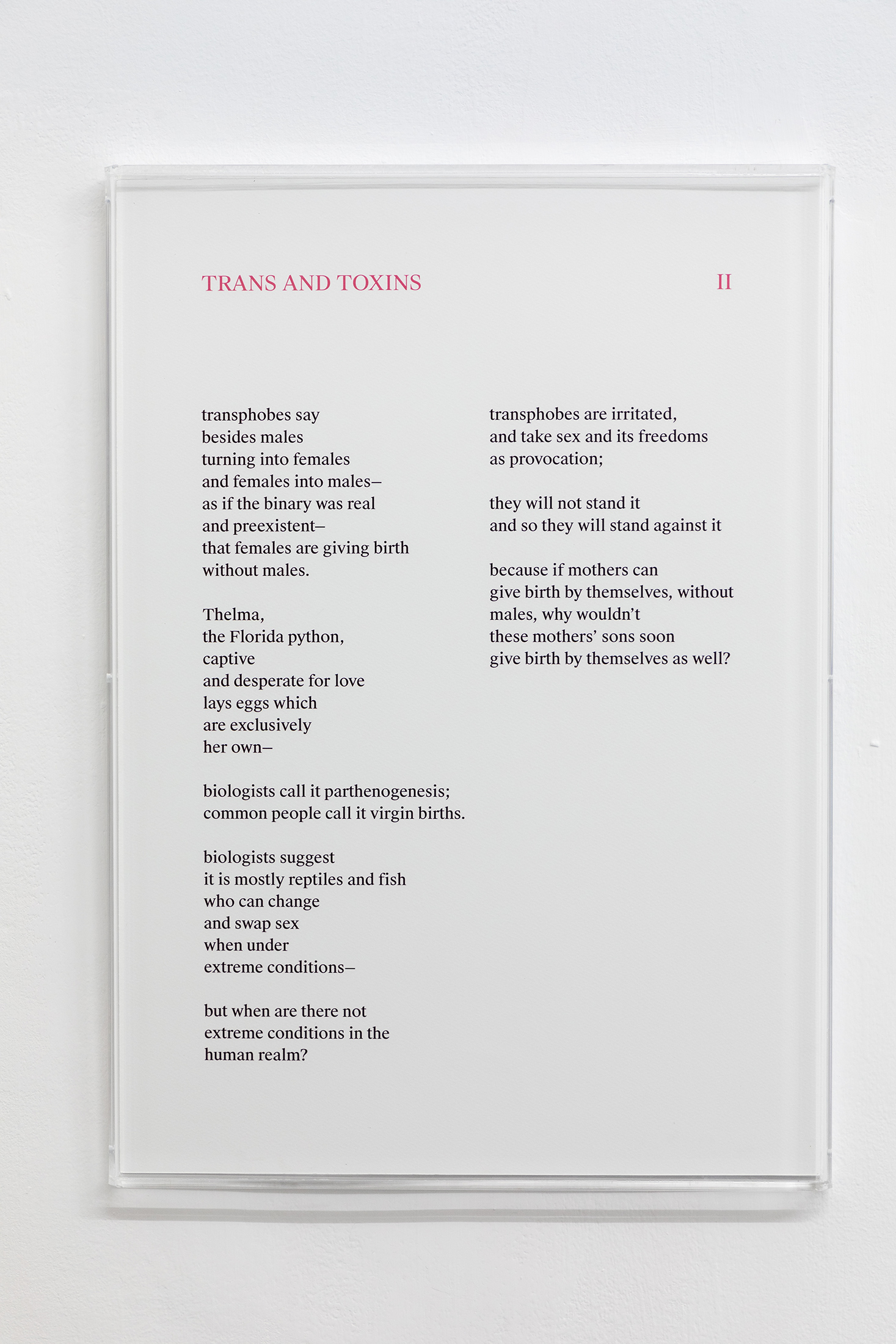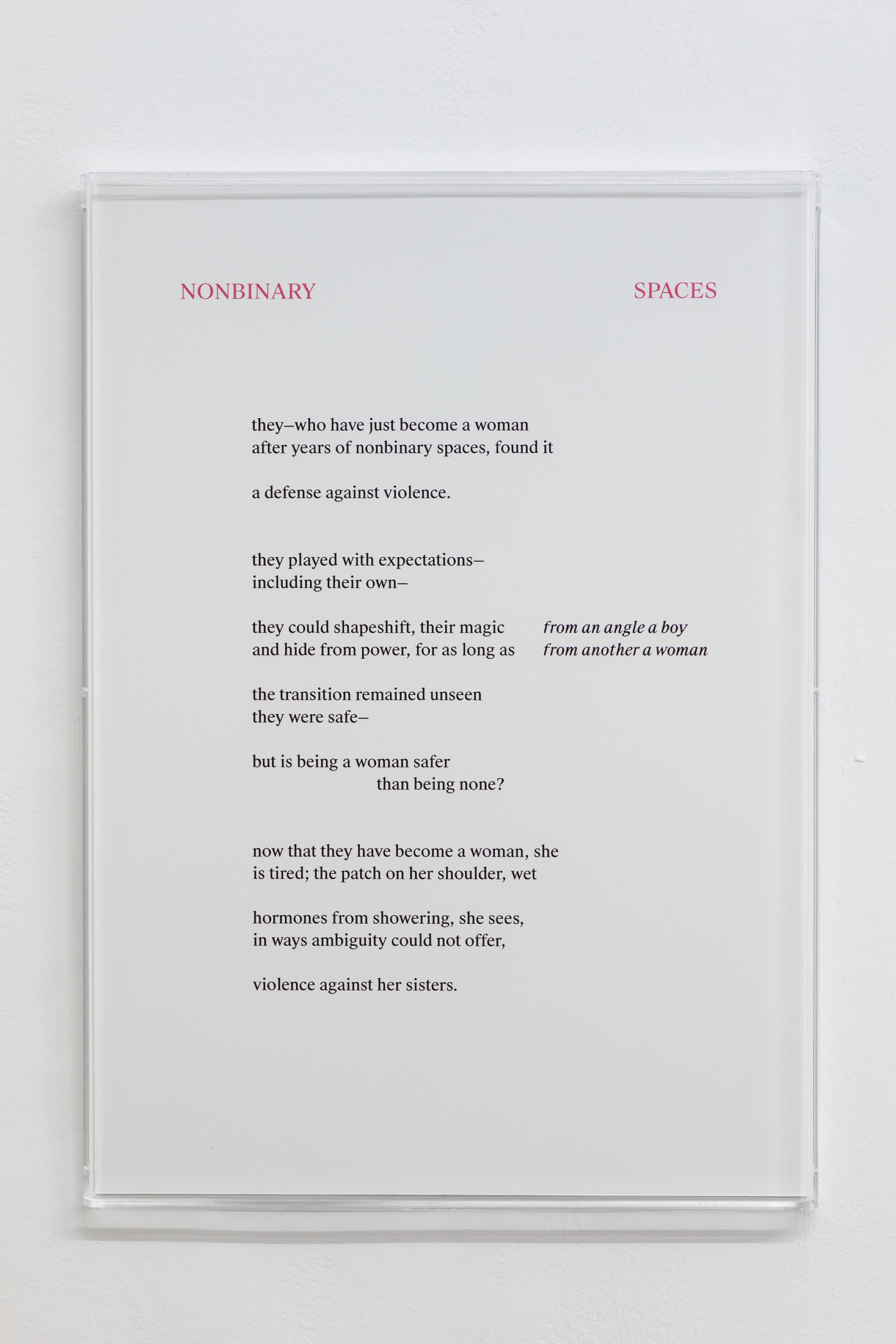 Selection of poems from Viral Poems
Viral Poems
2018. Set of 21 poems written by the artist, 60x42cm each, digital print on cotton paper, acrylic frames. Includes the following poems, in order:

Sex as Care
Toxic Environments
The Sound of Mating
Immunology I
The Militarization of Biology
Even Viruses Are Fluid
Silent Spring
Male Fragility
Climate Change
The Virus of Nature & The Virus of Culture
Babies
Woman I & Woman II
Even in Love Science
Immunology II
Epidemics
Fe/Male Mosquitos
Fumigation
Refuge
Trans and Toxins II
Non Binary Spaces
Polyamory


Author's note on Viral Poems

2016 was the peak of the Zika virus epidemic in Brazil. Across the country, banners, posters, and television ads were the face of a nationwide campaign against the virus, or rather the mosquito that carries the virus—Aedes aegypti. This is the same mosquito that carries Dengue and Chukingunya. These ads could be found everywhere, from broken, out of the way dirt roads to urban city centers. I remember standing on a subway in São Paulo, looking at a short clip playing on a monitor hanging from the car's ceiling, perplexed at how militaristic its language was. The state waging war against biology? These types of campaign are standard for countries affected by mosquito-borne diseases, but staring at the digitally animated mosquito looping on that liquid-crystal screen I couldn't help but feel there was something terrifyingly masculine about it. The thought stayed with me.

Former Brazilian President Dilma Rousseff was impeached on 17 April 2016, initiating a socio-political downward spiral in the country that two years later would eventually lead to the election of the fascist presidential candidate Jair Bolsonaro. During those two years, Brazil was taken over by a resurgence of neo-reactionary politics and a wave of toxic masculinity, racism, homo- and transphobia, and all around xenophobia. Friendships and family ties quickly broke down, and both outrage and fear were palpable on the streets. As a Portuguese citizen, I continued with my films and writings, but struggled with feelings of helplessness towards my friends and a place I quickly learned to love.

Attentive to how, historically, the notions of nature and culture tend to mirror and reshape one another, providing a battleground for the inclusion and exclusion of certain bodies (both human and nonhuman), the coincidence between these two events didn't escape me.

These "viral poems" were my own, personal way of projecting politics onto nature and culture. I felt the need for intimacy. The reasons were multiple. I could easily answer it with my own emotional exhaustion—and, much more importantly, of those around me when in Brazil—as well as with my own feelings towards gender, non-binary spaces, and feminism. But the answer is also technical. Different laboratories have recently developed genetically modified mosquitos, particularly the Aedes aegypti, in order to fight against viruses like Zika. The British company Oxitec has been particularly efficient, having implemented a "mosquito factory" in the state of São Paulo and conducted field trials in the region. Inside these factories, millions of mosquitos are born every day—an army ready to be deployed across the country.

In the end, however, it wasn't genetics what most intrigued me in this process, but rather a familiar gender dynamics found throughout the history of science. Only the female mosquitos carry and spread the virus by biting; but only the males are modified. A "lethal gene" is inserted into the males, who, upon mating, pass it on to the females—the female's offspring die before reaching a reproductive and transmission stage, thus reducing the population of carrier mosquitos and the spread of the disease. What a burden for the male; the same old fate for the female. And in-between one and the other gender, a repetition of long-trodden fears.